Dear Bjorn,
Someday in the way, way future I expect you to give me some grandchildren. (That, or become a priest, but we'll talk more about that later.)
Yes, that's right. I expect to have some cute little boogers who look just like you and the beautiful, not-quite-as-good-as-your-mama Girl you will someday marry. And they will be just like you. . .except I won't have to pay for 'em, change 'em or spend days working my schedule around their nap time.
That being said, I will not become a crazy Jewish mama who wants you to get married already. (Partly because I'm not Jewish. Mainly because I just. won't. rush. you.)
Not like
some people
.
See, there are Mamas out there, dear Bjorn, who are over-bearing and pushy. We call them 'Buttinsky's'. And whether you choose to marry at 20 or 40, I will do my damnedest (sp??) to
not
become a Buttinsky.
Because I would rather you remain single until 40 then that you marry the wrong person.
I would rather you learn to love life on your own than need someone beside you in order to enjoy life.
I would rather you wait until it is absolutely right for you than settle.
You are worth the best. You are worth waiting for someone as great as you. And no one (yes, no one - not even your Mama) will force, maneuver or guilt you into dating or marrying someone who may or may not be the perfect woman for you.
That being said. . . . I may falter sometimes.
Like when that cute flight attendant smiles oh-so sweetly at you. I may wind up talking to her and in the course of that conversation work in that you played baseball at Stanford and now do non-profit work for the homeless. I may mention the dimples when you smile and your ever-ready laugh.
But I won't push. It's not my way.
And I promise, wonderful little boy, I will never. ever. ever.
create or log in to a website that will get my son a date
. Talking to prospective daughters-in-law is as far as I'll go.
So, good luck. Dating isn't easy. But dating with your mother at the wheel is even harder. I'll spare you that.
Love always,
Your (Non-Buttinsky) Mama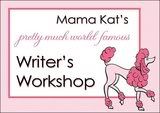 This has been a part of
Mama Kat's Writing Workshop
. Now head on over and check out what my friends had to say!